About Us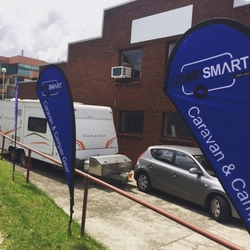 Our mission is to support Australia's love of adventure
We strive to make the outdoors fun, comfortable and accessible to everyone.
Who we are
Campsmart is a family owned and operated business.
We grew up camping, with long spells in the bush free camping and trekking. This type of childhood kick started a love of the outdoors, travel and adventure.
As young adults we took this sense of adventure around the world, camping and trekking across the globe. From Spain to Bolivia and beyond.
Kids arrived and still we kept camping.

Several years ago we took our own camper trailer "Gary" on the road for several months. Without realizing it at the time, that trip started the beginning of a whole new adventure. Gary gave us time to think. We loved travel, we loved the outdoors, we loved adventure and we wanted to assist others to experience the same. We decided to throw caution to the wind and find a way to work in our passion.
Campsmart was born!
We decided to give up our successful corporate careers with large organizations and dedicated ourselves to further develop and build Campsmart. We have a passion for the outdoors and a desire to test most of the products (as often as possible), enabling the highest level of customer service and product knowledge.

We have built our business to what it is today with dedication and care. Have a look at our customer feedback.
We are not a large corporation, we are a small business fueled by a love of the outdoors, camping and caravanning. We can give you hands-on advice, great prices and even better service.
Campsmart
Our Sydney-based office stocks some of the best-known brands in the business. We're known for providing great products which we use and trust ourselves.
The cost savings achieved through our unique and honest approach are directly passed onto our customers which offers outstanding value for money across our range of products.
We specialize in Camper Trailer accessories such as our range of Jayco Awnings, Walls and Bed Flys together with Caravan Awning Accessories including Privacy Screens, Annexe Flooring, Tension Rafters and Anti-Flap accessories. We're constantly expanding our range
– See our recently added products.
We love working for our customers & look forward to helping you with what you need for your next big adventure.
Benefits to You
Campsmart is an online business located in Gladesville, Sydney. We ship Australia-wide straight from our warehouse. This allows us to keep our overheads low and our product prices reasonable.
Contact Us:
Call Us on 1300 553 189
Address:
We offer a Click and Collect option on our website
Mon-Fri 9.30-15.30
41A College Street, Gladesville NSW 2111
Please note:
We are closed on the weekends.
If you are driving a long distance to visit, consider checking our stock levels first to avoid disappointment.
Returns & Exchanges:
No exchanges or refunds can be done in-store. All exchange and refund requests need to be approved and issued an RMA number - you will need to complete our online returns request form to start the process. We will not accept unauthorized exchanges or warranty requests. No payments, exchanges, or refunds will be made at the warehouse.
Payments
We only accept Card payments at the warehouse. We do not accept cash sales. Our warehouse staff can not negotiate prices.