Smart TVs
---
Smart TVs
Embark on a captivating journey with our range of smart caravan TVs that redefine entertainment on the go. Specially designed for caravans, these 12v TVs effortlessly combine state-of-the-art features with practicality. Browse this page to discover the perfect addition for your next adventure.
Journey into Entertainment: Power-Packed 12v Smart TVs for Your Caravan Adventures!
---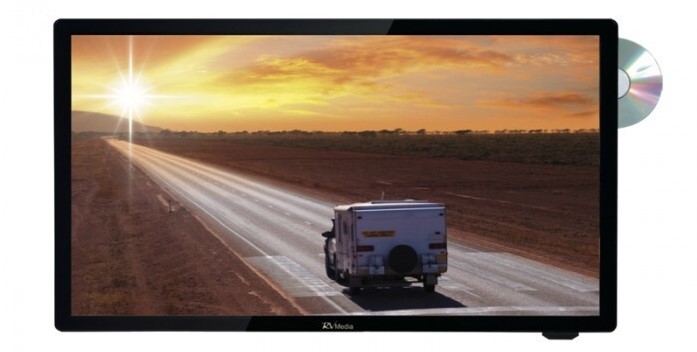 Exceptional Picture Quality
Experience razor-sharp picture quality that brings your favourite movies and shows to life. With stunning high-definition screens, our caravan TVs ensure every bit of your entertainment is visually captivating. Never compromise on your viewing experience, even when travelling through Australia's picturesque landscapes.
Built-in DVD Player for Limitless Entertainment
Fancy watching a classic on DVD? Our caravan TVs come with a built-in DVD player. The DVD combo feature lets you effortlessly play movies, ensuring endless entertainment on the road. Pop in your favourite DVD and get lost in the cinematic experience without the need for extra cables or accessories.
Smart Design with Unlimited Streaming Services
Our smart TVs are designed for the tech-savvy traveller. With easy internet access through Wi-Fi or ethernet, your caravan TV transforms into an entertainment powerhouse. Stream Netflix, YouTube, and countless other streaming services. Keep up with your favourite shows or catch new ones while you are miles away from home.
Stay Connected with Bluetooth Connectivity
Our smart TV's Bluetooth connectivity lets you effortlessly connect your phone, headphones, or speakers. Whether you want to amplify the sound or enjoy a quiet night with a movie, the choice is yours.
Multiple HDMI Inputs and Ports
Our caravan TVs come with multiple HDMI inputs and ports, allowing you to connect your laptop, gaming console, or any HDMI-powered device. Whether it's gaming or displaying photos from your latest adventure, the possibilities are limitless.
Low Power Consumption, High Entertainment
Energy-efficient and designed specifically for caravan use, our 12v TVs ensure low power consumption without compromising on features. They can be powered through a 12v DC plug, saving you on energy costs while contributing to a greener earth.
Easy Installation
The sleek design of our caravan TVs ensures they don't take up much space. They can be easily wall-mounted or placed on a stand, making them an ideal choice for caravans, RVs, and other vehicles where space and weight are crucial.
Comprehensive Coverage of Channels
With an in-built tuner, access a plethora of channels for free. Never miss out on the latest news or entertainment, no matter where your travels take you.
Purchase with Confidence
We provide a wide range of caravan TVs from renowned brands, packed with features tailored for caravan enthusiasts. Browse our site and make a purchase that will redefine entertainment in your mobile abode.

Don't let the road limit your entertainment. Elevate your caravan experience with our exceptional range of 12v Smart TVs.
---

Enjoy Entertainment on the Road with CampSmart Caravan TV
Get the Best Caravan TVs in Australia, Including 12 Volt TV DVD Combos!
Planning an awesome road trip in your caravan? You don't have to miss out on watching your favourite shows or movies. At Campsmart, we have a great selection of caravan TVs to make sure you stay entertained. We have popular brands like RV Media and Furrion, and loads of options to choose from.
Invest in a caravan TV to redefine the boundaries of what's possible on your travels. Watch, explore, and relish the cinematic offerings as you chart the uncharted, bringing the luxuries of a home TV to the cozy corners of your caravan.
Built to Last: Sturdy TVs Made Just for Caravans
Caravan TVs are not like the TVs in our homes. They are built to be tough and can handle the heat and bumpy rides that come with road trips. Plus, if anything goes wrong, there's a 12-month warranty. And the good news is, if you're in Australia, getting your TV fixed is a fast and easy process.
---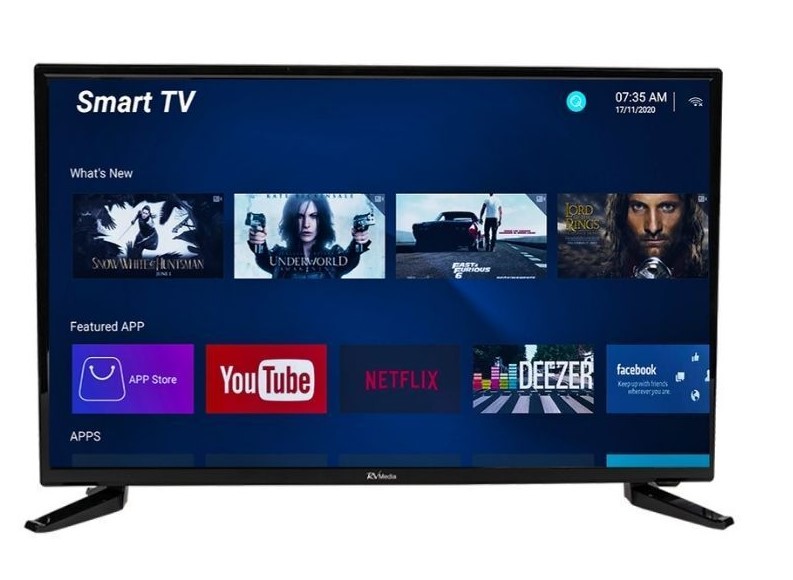 Revolutionary Smart TVs for the Modern Explorer: Why Smart TVs Are Indispensable
Take your caravanning escapade to the next level with smart TVs that effortlessly recreate the ambience of your living room within the compact space of your caravan. In an age where technology reigns supreme, why should your caravan lag behind?
Streaming Services on the Go: Integrate apps like Netflix, YouTube, and Optus Sport to watch movies and shows as you traverse through scenic locales. Whether it's catching up on your favourite series or keeping the children engrossed on a rainy day, the smart TV ensures there's never a dull moment.
All-encompassing Entertainment: With access to an array of channels like ABC iview, 7 PLUS, 9 NOW, 10 PLAY, and SBS on demand, your caravan becomes a treasure trove of on-demand entertainment.
Web Browsing: Beyond watching content, smart TVs empower you to surf the internet with ease.
Space-Saving Convenience: The smart TV's net size is optimally compact, perfect for the confined quarters of a caravan.
Multiple HDMI Ports: Equip your caravan TV with various devices through numerous HDMI ports, enhancing your entertainment experience.
---

Embrace the High-definition Era with LED Caravan TV
Our LED caravan TVs offer vibrant colours and crisp images that will leave you astounded. The high-definition screens, coupled with remote control, augment your viewing experience, transporting you into the world portrayed on the screen.
---
Complete Caravan TV Accessories - Maximise Reception with TV Antennas
Our range of TV antennas is tailored to ensure you receive impeccable reception regardless of your location. Select from an array of options including fold-away antennas to HD Sensar antennas, all amplified to guarantee maximum VHF/UHF programming.
Discover our comprehensive Caravan Electrical range or ring us at 1300 553 189 to learn more.
---
Space-Saving Wall Mounts
Our caravan TVs can be affixed to the walls using TV brackets, ensuring that the TV doesn't encroach upon your precious space. The brackets, available in single, double, or triple arm options, grant you the flexibility to orient the TV towards different areas of the caravan.
---
Experience the Journey Like Never Before with Campsmart 12v TV Designed for Caravan!
There's no better way to make your caravan feel like a home away from home than with an amazing TV that's built for the road. With our selection at Campsmart, you can keep up with all your favourite shows, watch movies, and even surf the web. Whether you're looking for a sturdy TV that can handle the journey, or a smart TV with all the latest features, we've got you covered.
Don't miss out on making your caravan adventures even more enjoyable. Take your pick from our wide range of caravan TVs and accessories and set the stage for entertainment on the go!

Give us a call at 1300 553 189 or visit Campsmart now to get the perfect caravan TV for your next adventure!
---