Looking for the Saracen DO35 Cruise Master Hitch Lock?
Author: Nadia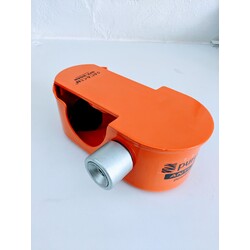 Have you been searching for the newest version of DO35 Cruise master Hitch Lock?
Look no further – here it is!! Saracen® have released the newest model Off-Road Hitch Lock with new features to suit all the current models of Hitchmaster® DO35 articulated hitch, including the latest V3 model.
How is this different to the Saracen® Hitch Lock?
The rear plate now has a cutout section to allow the new V3 DO35 Hitchmaster® adequate room for fast install and removal to keep you moving. The new design is compatible with all V1 V2 and V3 DO35 hitch models.
Hitch Lock Models V1 and V2, the rear plate did not provide adequate installation for the updated DO35 hitch causing the customer to purchase old models, leaving them vulnerable to caravan theft.
Can I just use my old V1 V2 Saracen® Hitch Lock?
Yes, however, The Cruisemaster® DO35 V3 has now been in the market since 2017 is very hard to distinguish between its predecessors and is not marked differently in any way. This makes it hard to determine what version you have installed on your trailer. The V3 Caravan Hitch Lock solves this issue immediately.
What kind of warranty does the Saracen Off Road Hitch Lock come with?
It comes with Purpleline® robust, 7-pin locking mechanism, simple to use front and backplate with the ultra-secure stout locking pin. Backed by a 2-year warranty, it's as tough as it looks and made to last!
What other security locks can I use to secure my vehicle?
Saracen also has a range of security devices locks and wheels clamps made from quality metal and built to last even the toughest conditions. Check out the range at Campsmart
Get this great lock before it sells out
Don't wait until it's too late!!! Get your van secured the right way today with the newest DO35 Hitch lock at Campsmart now
Saracen® Off-Road Hitch Lock V1 V2 V3
Part number 450-06088
---
Leave a comment