10 essential tips I wish I had known before buying a caravan
Author: Nadia C Date Posted:22 February 2018

What I wish I knew before buying a Used Caravan.
Caravans are as unique as their owners and with so many options on the market, you are bound to find one just right for you!
If you're interested in buying a caravan and are looking for a more economical option, make sure you know what to look out for while shopping for a used caravan.
Do you know Australia's caravan industry is set to clear the $20 Billion mark very soon?
With about 600,000 vehicles registered across the country, the boom in the industry has led to more owners trading in their used caravan for a new one.
For a first-time caravan owner though, the price of a brand-new van can be quite daunting and may even put off some new buyers.
We have taken the guessing work out for you, so you know just what to look for when looking for your first used caravan.
Whether you're a university grad looking to cut your overheads or a family that adventures throughout the year, caravanning offers lots of great benefits. You could see the countryside with all the comforts of home and accommodate long trips if you just want to let the road lead the way.
Your cheapest option for buying a caravan is a quality used vehicle. If you're in the market for one, make sure you follow these 10 tips to ensure you get the right vehicle to suit your needs.
1. Caravan or Camper?
Depending on your travelling style, you might be deciding between a caravan and a camper van. This will largely depend on how many people you're travelling with and what kind of road time you're expecting to be doing.
If you like to see the countryside, it might be better to drive the car and leave your caravan behind. A large camper van might have trouble navigating dirt roads and paths through the woods.
2. How Big is Too Big?
While the biggest caravans offer space to stretch out, you will need a bigger car to tow them around. Depending on how much off-roading you like to do, you might end up having to get a new car for your used caravan.
For anyone just getting into caravanning, the used market is a great path to getting your first taste of owning a caravan.
Work out your towing capacity and think about how much space you really need. It could be a good investment to get a truck that can pull a larger caravan, or it might make buying a used caravan too expensive for you.
If a caravan is wider than 2.3 meters, you'll need to have a commercial vehicle to tow it. If that's not the direction you want to go, make sure you have something that fits your style.
3. Do your Research
While you are deciding the right van for you and your family, do some internet research before you commit to a purchase. Find out how much it will cost you to insure this caravan. Internet forums are a great place to hear about the benefits and disadvantages of used caravans before you commit to buy.
You can see layouts, information about changes in models by the year, and recommended upgrades. The more research you do about your used caravan up top, the better you can predict your overall cost.
If you suspect there is a chronic issue that your seller hasn't mentioned, bring it up. It might allow you to get a lower price on the caravan.
4. Speaking of the Seller
If you're buying from a dealership, be prepared to spend a little bit more. With that extra cost, you are entitled to consumer protections and often some limited warranties. If you have problems as soon as you leave the sale-yard, you'll be able to have them fixed soon with little-to-no cost to you.
You'll face a different situation with a private seller.
When calling a private seller, ask about "the caravan". If they respond, "which caravan", this could be a red flag that this seller is operating as an unlicensed dealer. It could mean that they're operating without the legal or licensing obligations meaning you could get a bad deal with little to no avenue of remuneration.
5. Inspect It Thoroughly
Be sure that you inspect a used caravan thoroughly during daylight hours. If you know someone who knows about vehicles, even better, bring them along with you.
One of the biggest things to watch out for is water or mould damage. When a caravan is poorly sealed or has cracks in the window frames, you could end up in an endless war with mould and mildew. Hardware stores sell dampness testers. These are great tools to use to save yourself trouble down the road.
Check that everything seems secure on the exterior. Make sure doors seal solidly and securely. Look at any vents and be sure that everything feels secure and doesn't have any cracks.
How does the body look? Is anything barely hanging on or held together with tape or adhesive? This should raise flags and make you wary of purchasing.
Ask if there have been any major changes to the gas or electrical systems. See if you can get a service record so that you know what to anticipate. Ask what may need to be replaced.
If your seller is honest with you, you should feel more confident buying from them.
6. Check the Accessories
We all have the little things that make a home feel comfortable to us. Some people like to kick their feet up in front of a big TV while others will want a place to lie back and read under good lighting.
If you're looking for specific accessories that a good caravan is missing, calculate that into the price. If a caravan already has these amenities, you might pay more but it might be worthwhile to have what you need from day one.
You might need an awning, battery chargers, or extra batteries later, so ask if any of these things are included. Also, be aware of extra items like awnings or outside shade covers installed on the caravan that could be removed after the sale. Ask the seller if everything on the caravan is included in the price.
7. Know the History
As mentioned earlier, getting to know the history of a caravan is important. Service histories are cyclical, meaning certain things will need to be replaced every few years or after a certain number of miles.
Knowing which costs to anticipate will allow you to make an accurate judgment of how this caravan fits into your budget.
8. Age Is Important
If a caravan is in tip-top shape, make sure you know how old it is. While it might be doing well up until this point, you might be about to hit the end of life for many elements.
Older caravans can still be great, but they might take a little more work on your part. Providing your seller is open with you, you should be able to anticipate any issues.
9. Check the PPSR
You should check the Personal Properties Securities Register before you buy a van. There could be money owed or it could be stolen. If it was previously reported as an insurance write-off, you could face a whole lot of headaches later on.
Protect yourself and your investment with a PPSR check.
10. Be Responsible
While you have expectations for your seller, be a kind buyer as well. When you schedule a viewing, show up on time. If you're unsure, be honest. If you're not interested, be honest about that as well. It's better for everyone if the seller can sell a used caravan promptly rather than waiting for you to make up your mind when you're leaning toward "no" anyway. Sellers and buyers often reach a happy outcome when both parties are open with each other from the beginning.
Buying a Used Caravan Is an Exciting Process!
While there are a whole lot of boxes to tick, you should be excited about the adventure you're embarking on. Buying a used caravan will set you up for years of exciting living and wonderful memories to cherish for years.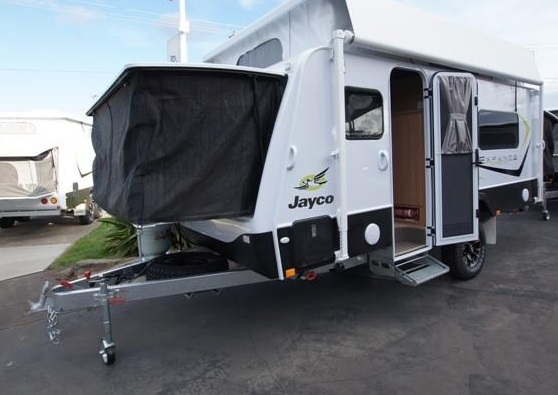 Other Articles
---
Leave a comment