6 of the Best Pop Tops for Your Outback Camping Trip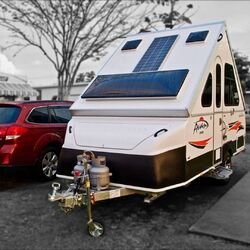 6 of the Best Pop Tops for Your Outback Camping Trip
Choosing the right pop top for your outback camping trip can elevate your experience and ensure you stay comfortable. Here are six to consider and why.
It's easy to understand why so many people love using a pop-top caravan when they go on holiday. Pop-top caravans are lightweight, low-profile, and easy to tow.
Pop tops are important for every camper and those who want to go on an outback adventure.
There are other benefits to having a pop-top compared to other types of caravans.
They may be smaller, but this reduction in size makes for better fuel economy and reduces wind drag. But pop-tops still offer plenty of room and height if you're taking your family or your mates.
Are you going to go outback camping? Here are the 6 best pop tops to take on your adventure.
1. Coronet Series F S2
Coronet pop tops are taking their classic models and revamping them with an updated design. This Melbourne-based company offers a quality vehicle at a great price.
Coronet has a great reputation for building quality pop tops. And the S2 is a perfect example.
The S2 only weighs 1920kg, so this pop-top is extremely easy to tow. This helps if you're camping somewhere really far away. This pop top behaves well under tow.
It rides smooth and comes up fast in case you have to take a sharp corner or have to drive on the highway.
The S2 is popular because it offers the benefits of a pop-top along with those of a large caravan. The layout is also similar to a standard caravan, complete with a full kitchen, bedroom, a rear bathroom, and even an optional washing machine.
2. Goldstream RV 16FT FKST
Goldstream is known for their excellent quality pop tops. The 'FKST' stands for 'front kitchen, shower, and toilet.' Any Aussie knows, when they go outback camping, they need some plumbing. Goldstream designed the FKST for comfort.
This pop top comes with an air conditioner, TV, and even more. One of the first things you'll notice is the pop-top is low to the ground: at 275mm.
Underneath the pop-top is a steel plate. This is welded to the underside of the A-frame rails. This might leave you concerned, but the pop-top remains steady as you drive.
One of the best qualities of this pop-top is its ability to drive through harsher terrains. This is perfect if you and your mates want to do some deep-outback exploring.
3. Jurgens Jindabyne PT2210
This pop top comes at a low price: only $33,000 AUD. You may be missing out on some features, such as a bathroom. But regardless, this is a great quality pop top.
For starters, this pop-top is safe and can be hitched on any wagon or even a sedan.
This one doesn't set up as easily as others and you'll have to remove the plastic cover before hitting on a WDH. But this pop-top is perfect if you're just looking for something simple.
The PT2210 is perfect for a romantic outback camping trip. It has a two-seater lounge and is spacious. There isn't a lot of height, so be careful not to bump your head!
If you're looking for a budget pop-top that accommodates two people, and you plan on camping in a caravan park, then the PT2210 is your winner.
4. Golf 501-3 Poptop Maxxi
The 501 is a favourite amongst Australian campers. There is plenty of space and holds plenty of food for long travel.
The 501 sleeps three and comes with a queen and a single bed. There are two canvas covers around the beds that protect you from certain weather conditions.
The canvas can be zipped open for a flow of air, complete with mesh that keeps out the insets.
If you want to invite additional mates, a couple more people can fit in the pop-top. The ends fold-out, leaving more room.
This pop-top is very comfortable but also tows well. This is important if you plan on outback camping far out of the way.
If you plan on having a party in the outback, the 501 should be your go-to pop top. The 501 has LED outside lighting, external speakers and sockets for a 12V/240V and a television.
5. Jayco Expanda OB 18.58-2 PT
If you're looking for space and a lighter tow, then go with the Expanda. Beds fold out, giving you a comfortable sleeping room and even more room when you're awake and fold up your beds.
The Expanda can fit up to eight people, so this is perfect if you and a group of mates are doing some outback camping.
This pop-top has the best features of a caravan and an RV, all in one pop-top. The Expanda is complete with a crossover dining and kitchen area.
6. Olympic Javelin
Are you planning on spending more time outback camping than in your pop-top?
Go for a minimalist model such as Olympic Javelin. This is another one that doesn't come with a bathroom, but most campers love the extra space compared to other pop tops.
The Javelin hosts a kitchen, dinette, and a two-person lounge on the opposite side. It's very simplistic, with basic decor and wide windows for plenty of sunlight and ventilation.
This amount of room is surprising: the Javelin is 5 metres long, small for a pop-top. Its small size makes it very light to tow and lightweight overall.
Time to Go Outback Camping
If you're finding a pop-top for your next camping trip, you have a lot of great options. It's easy to become confused by the number of features, space, and if the pop-top will truly accommodate your trip.
While all pop tops are different, they all offer something each camper will enjoy.
Whether you're deep in the outback or camping in a caravan park, this guide will land you a great pop top. So treat yourself to a new one on your next holiday.
Did you purchase your new pop-top? If you're looking for some accessories, take a look at our products.
---
Leave a comment