8 Free Places to Go Camping in Australia
Author: Nadia C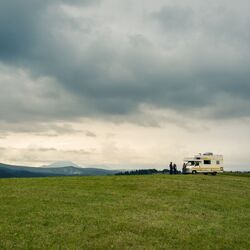 Sometimes you just don't want to pay for your campsite. Here are some free places you can go camping in Australia with your caravan.
Want to save money on a campsite so you'll have more to spend on the rest of the camping fun?
When you are camping in Australia, you don't need to shell out a lot of money. There are a lot of free sites you can choose from, whether you're camping in a tent, a caravan, or a pop top.
Ready to plan your next camping trip? Then keep reading for the top free places to go camping in Australia.
1. Mulgildie Hotel
Get access to everything the hotel has to offer without paying for a room by using the free camping grounds. This free site offers completely free camping behind the hotel, as well as discounted meals for those at the campsites. For only $4, you can get access to the showers and bathrooms, as well.
You'll find this site along the Burnett highway in Queensland, about five hours north of Brisbane. The hotel itself houses the North Burnett Art Capital, featuring work by Arthur Hamblin and other artists.
You can enjoy the nearby Wuruma Dam and Cania Gorge from this site - they're only half an hour away. Have some fun in the water with fishing or skiing.
At this site, you can have a campfire, a generator, and pets. You'll find plenty of wildlife nearby if you choose to go out and explore.
2. Glen Riddle Recreation Reserve
Head about 15 km south of Barraba and you'll find this expansive grassy campsite.
If you have a small boat that you want to take out, use their gravel boat ramp - the campsite is on the north shore of the Split Rock Dam. However, the water level gets very low at sometimes during the year, so you'll want to check before you hitch up your boat.
If the water permits, you can fish here for yellow belly, cod, and perch.
This completely free campsite allows campfires and pets providing they're on a leash. There is no power available and no showers, but there are toilets on-site.
3. Sandy Point Reserve
This wide, flat campsite on the edge of the Murrumbidgee River offers plenty of space near the water, as well as large grassy areas.
The site has toilets available and free access to electric barbecues and picnic tables. There's also a boat ramp, which makes this another great place to go camping in Australia if you own a boat.
Walk into town for a shopping trip and bring your dog if it's on a leash. There are no showers and no power, but there is plenty of space for big rigs.
4. Wanderest Travellers Park
This park in Richmond, NSW has it all - showers, toilets, and sites with or without power. You'll find wide grassy areas and picnic tables to enjoy while you're there, too. Take a short walk to reach the train station or shops.
This location is operated by the Richmond Club, and to stay for free you do need to pay $5 per year to join the club. However, this gives you unlimited free access to the unpowered campsites, which can be well worth it if you live in the area.
This park is also dog-friendly but does not allow campfires.
5. Binnaway Pumphouse Reserve
Head to Binnaway, NSW for free camping at the Binnaway Pumphouse Reserve. This free site is perfect for caravans, and you can easily walk into town once you're there.
Camping is free, but $2 buys you a hot shower. You'll get free access to fireplaces and electric barbecues. You can bring your dog, and you'll even find potable water on tap here.
6. Gum Bend Lake
Head 463 km west of Sydney to find the free Gum Bend Lake campsite.
This artificial lake was created for waterskiing, swimming, and boating, making this a great summer destination for camping in Australia. Around the campsite, find 40 ha of beautiful, landscaped grounds.
This campsite offers free amenities, including showers, toilets, and barbecues.
If you want to get into town, take a lovely 30-minute walk and enjoy the shops, including an excellent bakery. Leashed pets are welcome here, too.
7. Scotts Beach Camping Area
This campsite is on the River Murray, about 3.5 km outside of Cobram, VIC.
You'll find plenty of free campsites here, with the town centre just a few miles away. Stop by nearby Quinn Island for 40 ha of water bird refuge area. You can walk across a footbridge to the island and enjoy the wildlife there.
The campsite is peppered with shade trees and offers picnic tables and toilets.
This is one of the most popular campsites in the area, thanks to the beautiful scenery the river offers. The river winds through a state forest with plenty of walking trails where you can see the local flora and fauna.
Don't forget to relax on the riverbank's sandy beaches under the shade of a gum tree. Here, you can go fishing, swimming, or boating, as you please. This site is also pet-friendly and allows campfires.
8. Sceale Bay Bush Camping
About 15 km south of Streaky Bay, SA, you'll find the Sceale Bay Camping Area.
Here, powerless sites for camping and caravans are available. You'll find toilets and bush showers in this gorgeous bushland campsite.
This is a great site if you intend to get out and do a lot of exploring. Nearby, you'll find the Point Labatt sea lion colony, Murphy's Haystacks, Searcy Bay, and Baird Bay.
In the right season, you'll see dolphins, sea lions, and even whales around the camping area. Bring some coins for access to drinking water. Pets are allowed, and campfires are permitted except during summer.
You'll also have access to cold showers and toilets. The site is accessed by dirt road, so prepare your vehicle accordingly.
Ready to Try Camping in Australia?
Whether you're a local or visiting from out of town, these free campsites make camping in Australia accessible for everyone.
From quiet grasslands to popular waterways, there's a site on this list for every type of trip. Which one will you try?
The best camping trips are always the ones that you're completely prepared for. Check out our list of caravan parts and accessories to get everything you need before you go.
---
Leave a comment