Fiamma End Walls for F45 Now Available
Author: Nadia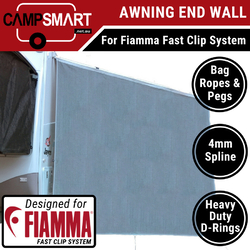 The end is here!
End wall that is – Fiamma end wall to be exact.
Do you have a Fiamma awning? Have you been searching for an easy-to-use privacy end wall to use with the Fiamma Fast Clip System?
Then look no further - the answer is here. Fiamma F45S Awnings were designed for ease of use and now with the Fiamma Fast Clip system, you can have the added privacy these great screens provide without the worry of trying to fit a screen designed for the larger Roll Out awnings to the Fast Clip System.
Why are these different to other end walls?
Most Roll Out awnings are designed with a larger sail track groove and the Italian-designed Fiamma has been made with a 4mm sail Track groove. Until now there has not been a readymade End Wall for Fiamma Fast Clip System designed with a smaller rope spline to suit to Fiamma Fast Clip System. This lightweight end wall also has 5 Velcro tabs sewn along the top of the screen that can be attached to a full caravan Roll Out arm or telescopic rafter pole in the absence of a Fast Clip System.
With Australia's harsh sun the need for good quality shade is increasing. Inferior shade cloth can look similar, however, without a shade rating, these inferior screens will still allow campers to get sunburnt through the fabric. Fiamma End Walls are made from 95% shade rating quality shade mesh with Australia's harsh sun in mind while also allowing a light breeze to come through when you are enjoying the outdoors. The high quality of this shade cloth also provides additional privacy as it can't easily be seen through like some other shade screens on the markets in this price range.
The durable lightweight fabric weighs meaning this screen takes up very little room when in storage. Easy to put up and take down over and over again these End walls made for Fiamma Fast Clip System will rapidly be an item you just can't leave without! Weighing less than 2 kg this End wall for Fiamma is so versatile that Caravan, Camper Trailer, Motorhome owners and alike will just fall in love with this fantastic new product.
Don't wait for a custom screen to be made and then sent to you. They are ready-made and can be ordered today for immediate shipping. Call us here on 1300 553 189 and speak to our friendly team to order today.
Don't miss out. Get your ready-made screen for you Fiamma before these screens sell out!
---
Leave a comment