Its hip to be square - Smart Space Pots
Date Posted:25 August 2016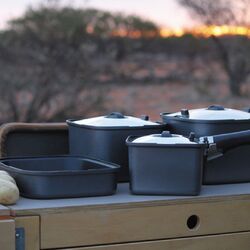 When you're in a caravan or on a boat, space is always at a premium, especially in the kitchen. All those bulky, awkward pots and pans take up a lot of space and rattle around while you're on the move. Not to mention, they never all seem to fit neatly onto a smaller stove top. SmartSpace Stacking Cookware is the answer to this eternal problem.
For the very first time, the innovative design of SmartSpace Stacking Cookware means you can easily and effortlessly cook on all elements of the stove top at the same time and then pack them neatly away in their 'nest'. Saving room and keeping your cupboards neat and tidy.
The three pots are square in design, so the fit better on the stove than the traditional round pot, and then they all nest in one another to pack away neatly. The set comes with an easy and safe detachable handle which attaches to each of the pots and makes for simple storage. The pots come with their own silicon mat that helps them nest together securely, but can also double as a heat-safe mat for your bench tops. Best of all, the sturdy steel lids comes with a refrigeration seal so than can be popped into the fridge to store leftovers.
The pots are made from high quality aluminium, with a Teflon coated interior and a quality enamel finish, which make them easy to clean and looking good. A separate frypan designed to nest on the bottom of the pots is also available for sale separately.
Don't wait, make cooking a breeze on your next adventure.
Related Products
---
Leave a comment