Which Caravan Privacy Screen to buy?
Author: Steve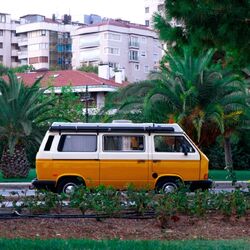 Over the last few years Caravan Privacy Screens have quickly become one of the most popular accessories for Caravanners and it's easy to see why. They're small, lightweight, quick and easy to install, offer privacy & significantly increase your shaded area. While not waterproof, they're a great alternative to expensive bulky annexes.
The increased popularity has however led to a massive number of brands, sizes, attachment types and all with various features, colours, inclusions & exclusions. It's not hard to get confused about which one to get so this quick guide should help you narrow down the choices.
Awning Type
Most Caravan Privacy Screens on the market are designed for 2 types of awnings, Roll Out Awnings or Box Awnings.
Roll Out Awnings include a rounded barrel at the end of the awning which the fabric wraps around when retracting. These typically required a 6-7mm rope spline that slides into the groove on the barrel. Most Privacy Screens are designed for this type of awning and the most common brands include Carefree, Dometic, A&E & Sunburst.
Box Awnings (sometimes referred to as Cassette Awnings) are a more compact design that winds back into an enclosed casing. These European-style awnings have a smaller track along with the casing and require a 4-5mm rope spline. The most common Box Awnings are the Fiamma F45 & F65 range & Thule Omnistor (Please note Dometic have a Box Awning as well as a Roll Out).
Length
A lot of people get caught out on sizing. That's because the official measurement of an awning is from the centre of each Awning Arm & the tracks for privacy screens on the barrel/casing are typically 15-30cm shorter than this measurement.
For Box awnings, the screen required is usually 15cm shorter than the Awning. For example, a 2.85m Privacy Screen is designed to fit into the track on a 3.0m Fiamma F45S Awning.
For Roll Out Awnings the measurement is 25 to 30cm shorter than the awning. For example, a 4.0m Privacy Screen is designed to fit on a 4.26m (14') Awning Carefree Roll Out Awning.
Drop
Traditionally privacy screens have come in an 1800mm drop. This provides coverage most of the way to the ground on a standard RV with a gap for tie-down ropes & pegs. However, there has been increasing demand for longer screens that can be pegged directly into the ground or to provide extra coverage for awnings set higher up (which is often the case on Off-Road RVs including the popular Jayco Outback Range).
Thankfully Campsmart recently released a large range of XD (Xtra Drop) Caravan Privacy Screens with a 1950mm drop.
Tie Down Points
Most caravan awning sunscreens come with Eyelets or D-Ring attachment points along the bottom edge to attach to the ground with guy ropes & pegs. D-Rings are generally considered more sturdy while eyelets are great for using with tent poles to create an awning extension or larger shade area. A recent innovation has seen some screens (including the new Campsmart XD Range) feature a heavy-duty tab incorporating both D-Rings and Eyelets. Use the D-Rings for securing to the ground and Eyelets when extending on poles – what a great idea!
Black v Silver
The most common colour of Privacy Screen is Silver / Grey and this can vary in lightness depending on the brand. Silver / Grey tends to fit well with most RV Colour schemes and is a good reflector of heat.
Black Privacy Screens have gained increasing popularity over the last year. These look great, especially on Off-Road models with black checker plating and/or decals, including the Jayco Outback Models. Black also provides more privacy than Grey which can be a plus at a busy Camp Site.
Matching End Walls
Most privacy screens for roll out awnings also come with end wall options, and usually a square cut for Pop Tops or an angled cut for full caravans. These come with Velcro straps to attach to the awning arm with most angled end walls also including a rope spline which can be used with Anti Flap Kits (where fitted). Most end walls are 2.1m wide ensuring fitment is still possible on smaller awnings. However, this ends up being a little short for awnings on full-sized caravans. Campsmart's Caravan XD End Walls again tick the box here being both a wider and longer screen providing up to 20% more shade than other brands.
Summary
Start off with your awning Type, then Size & work from there! The 1950mm extra drop range from Campsmart covers both awning types and with more sizes than any other brand in both black or silver/grey, your needs should be covered here. Visit Campsmart's website or give their friendly staff a call on 1300 553 189.
---
Leave a comment