Which type of Caravan Annexe should I buy?
Author: Nadia Date Posted:11 February 2019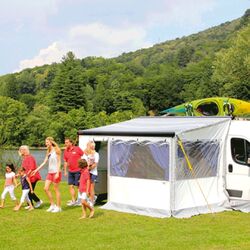 Have you gone away camping expecting great weather only to get a hit with sudden winds or rain? Did your caravanning start when your family was small and could fit into one van comfortably, fast forward a few years and you are practically sleeping on top of each other? Wondering how can you create more room without upgrading to a larger van? If you said yes to any of these an Annexe could be the solution for you!!

Adding an Annexe to your van or motor can give you much-needed protection from the elements or just more room for the expanding family to holiday when you travel.

With many options that are quite similar choosing the right Annexe the first time can be quite daunting.

Where to start? First, you need to know how big your awning is. Annexe rooms are purchased by the awning size, not the van size.
The best place to start is with the awning measurement.
Awnings are measured from the centre of the upright support arm to the centre of the upright support arm. This will give you the full length of your awning.

Now you have this you can start shopping for your new annexe!

We have put together a buying guide in one place with some general information on our annexe wall kits, so you don't have to spend hours searching and comparing them all online.

Aussie Traveller
Aussie Traveller annexe Wall kits are made to order so they will fit your van just right!
Designed to suit Rollout awnings on pop pops, caravans, and motorhomes this premium range of annexe are made by trusted brand Aussie Traveller. Durable canvas walls, strong aluminium poles and the Aussie Traveler Anti-Flap kit complete this premium awning. Comes in a range of colours and includes a custom draft skirt.

Aussie Traveller Anti Flap kit is part of a standard part of the kit, which can be used independently of the annexe to help strengthen your awning, increase roof tension and reduce flapping. Check out the range here.

Thule EasyLink annexe;
Made with rip-stop nylon material this annexe is a great all-rounder made to suit most rollout awnings and European/Box awnings alike without the need for heavy ropes and poles. This can be set up in minutes with minimal installation required. Fly screen mesh on the windows keeps out bugs at night so you can enjoy outdoor space whilst in the outdoors.

Coast Wall Kit
Coast annexe wall kit will suit standard rollout awnings installed on Pop Top vans and Full Caravans alike. Coast to Coast wall kit annexe is tough durable and will stand harsh conditions while adding space to your van. Additionally, this annexe wall kit is designed to be a universal fit for most rollout awnings, meaning these can be shipped by Campsmart within a day of ordering in most cases.
Measure twice to be certain!
To measure correctly, measure from the centre support arm to the centre support arm and purchase the wall kit to suit. For example, a 15-foot roll out awning requires a 15-foot wall kit.

Fiamma Privacy room
Made by Italian company Fiamma, the privacy room annexe has been designed in Italy and adapted to suit Australian conditions. This Privacy room is compatible with Fiamma F45S awnings and comes with the very popular Fiamma Fast Clip system, which usually retails for around $500 alone! We love that these walls can be used independently of each other, for example, one long wall + the kitchen end for some protection from the sun without closing the annexe in completely.

You can also use the Fast Clip system to attach an end wall screen (available separately) for use in warmer weather. This is otherwise unable to be attached without a Fast Clip System. Follow the link for the range here.

Jayco Bag Awning and walls
If you own wind-up camper chances are you need an awning + wall to give you a bigger footprint to really spread out comfortably when camping. Easy to install these walls can be used with Jayco branded awning from 2012 onwards. We love these walls can be used for both on and off-road vans with an extra-long draft skirt to close the gap between the ground and the bottom of the van.
Bugs won't be a problem with the fly screen walls, also includes solid wall coverings for privacy at night. Strong vinyl makes the awning weatherproof and canvas walls complete this great pack.


These annexe wall kits are available from Campsmart. Don't wait until it's too late. Give our great staff a call to get your new annexe in time for your next trip.

Phone - Campsmart 1300 553 189
Email - admin@campsmart.net.au
---
Leave a comment