How to choose the best camping ground cover for your next trip
Author: Nadia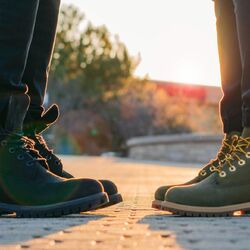 With a large range of mats on the market, how do you know which is the right ground cover for you?
We have tried and tested these mats on our camping adventures and have provided reviews for all matting and ground cover options to save you time testing them yourself.
Before you purchase a mat for your van or motorhome there are a few key differences between each ground cover that can help you select the right mat for you.
Weight – Caravan matting can vary around 2-3 kilos in different ranges for the same size mat depending on the type of fabric used. For a large caravan, the weight may not be an issue, however, for a smaller camper trailer, every kilo counts.
Durability – Where and how often matting is used. Premium matting will last a lot longer and is generally tougher than foam style matting which is a great economical option for campers using ground cover only a few times a year.
Texture – Foam matting has a softer feel than synthetic matting which is usually made from woven mesh.
This ultra-durable mat is made and designed in Australia and comes with Australian-made certification. Made from woven mesh and coated in polyester ensure this mat is one of the strongest all-around mats. The polyester coasting ensures this mat is mildew resistant and makes packing away simple and easy. Even heavy mud comes away quickly with a hose down then shake to remove excess water. Durable and lightweight a 6-metre Enduromat weighs only 5kg!!
The feel of the Enduromat underfoot is quite smooth and will allow grass to grow under and through this mat. This premium mat is best suited for travellers wanting an extra-strong, lightweight mat that will last for many years.
This matting has been designed for the use of the Australian Defence Force to land helicopters on it in the outback so it's going to be tough! Dual-layer mesh matting is the only one of its kind on the market. Dual layers allow fine sand and dirt to fall right through the matt reducing the amount of dirt and sand tracked back in your van. D-rings sewn into the outside of this fabric give the multi-mat additional use as a privacy screen as well.
The CGear Multimat is lightweight and simple to set up and pack away. Made with reinforced edges and having multiple D-Rings, the Multimat is durable and won't tear or fray, even if cut, due to rip-stop technology. With dual layers of Green/Grey on opposite sides, you can select which one best is best suited to your van trimming. 6.0 X 2.4 M metre multi-mat weighs 7 kg with a carry bag.
Woven fibre core provides added strength to the PVC Foam Annexe Mat allowing it to be used repeatedly without fear of fraying, even if cut or torn. Foam annexe matting can be purchased in Grey, Green, or Blue and has the largest range of colour options compared to the other mats.
The foam annexe feels soft and springy underfoot and is best suited to soft ground like grass or dirt. Foam matting will not wear well on concrete when compared to the other synthetic matting, also PVC Foam matting doesn't need pegging down to stay put.
This ultra-lightweight floor matting is best suited to travellers with strict weight restrictions in mind. Available in 3m X 2.5 M this weighs only 3.4 kg and is the most economical of our range.
Camec floor matting is quite unique in its design. This matting is synthetic which provides long-lasting durability over a foam-style mat. When compared to a C-gear or Enduromat the Camec matting weave is much tighter which means bugs and sticks will not come up through the mat. Camec synthetic matting is rot-proof due to the synthetic material it is made from. Camec matting 6m X 2.4 weighs 5 Kg and is very easy to store.
We hope this helps you to find the right mat for you. We can discuss all these options with you further to find the right one.
Please check out the range or give us a call on 1300 553 189.
We look forward to hearing from you soon!
Related Products
---
Leave a comment