Aussie Traveller Annex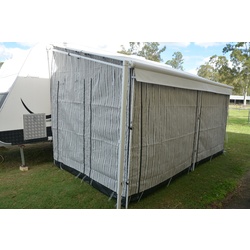 Looking for high quality Australian made canvas annexe walls for your caravan at a fantastic price?
Peace of mind comes with this quality product knowing it is hand made in Australia with an exceptional brand reputation.

Each kit is made per order ensuring a perfect fit to your van and minimising installation requirements once received.

The latest version of these awning walls encompases the Aussie Outdoor lifestyle through a new Door/Window Combo design.

In addition to the 2 doors at each end, all Windows can be zipped down to the bottom and rolled up to effectively act as large doorways. In nice weather, openning all door/window combinations really opens the space up to the outdoors and totally removes the closed-in feeling traditional style annexes have. With bulit-in eyelets along the bottom of the door/window combos, the panels can also be extended out on poles and used as awning extensions, expanding your shaded living area.

Made from durable, easy to clean polyester and cotton canvas the Annexe walls come standard in the pictured Grey / Charcoal / White & Black classic combination but are available in a range of colours to suit most caravans.

We also include the popular Aussie Traveller Anti Flap kit standard as part of the kit, which can be used independently of the annexe to help stregnthen your awning, increase roof tension and reduce flapping.
Have a look at the video and see just how easy this Annex is to use.
What Colours Do They Come In?
You can choose from a range of colour combinations. Stripes are standard, however single colour annexes are an option.
Contact our friendly team today. We can provide you with a range of fabric samples and product information, just call 1300 553 189 or email sales@campsmart.net.au
Are They Good Quality?
Yes! Aussie Traveller are an 100% Australian manufacturer that have been making Annex Walls since 1988. This gives them exceptional experience. They are renowned amoungst caravanners for their high quality products.
Do They Come With a Warranty?
Yes, they are covered by a 12 month manufacturers warranty.
How do I order?
Contact our team on 1300 553 189 or email sales@campsmart.net.au