How to know which type of Caravan or Camper Trailer you have?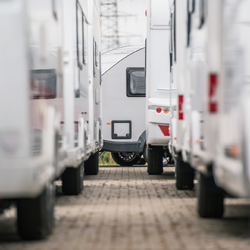 If you're new to the Camping and Caravanning world, all these different modes of transportable homes and gadgets and gizmos that go with them can appear quite overwhelming.
So we've created a quick and easy guide that will help you identify the type of caravan or camper trailer you have, the key features of your vehicle, and the most common items you can purchase from us that will go perfectly with your transportable home.
CARAVAN
Full body type size
Solid walls all the way to the roof
Heavier and larger to tow
Awning is a Roll-Out or Box
Overhead cabinets are quite high
Includes a kitchen and bathroom
What you can purchase from Camp Smart...get yourself a Caravan Annexe Wall Kit, Caframo Fan, and a Caravan Cover!
MOTORHOME / CAMPERVAN
A whole unit - a van and home in one!
Motorhomes have a coach-built body
Campervans have a fit out
Includes more luxurious interiors
Can be a converted bus or van
Includes a kitchen but may not include a bathroom as campervans are primarily space-saving vehicles
What you can purchase from Camp Smart...buy some Annexe Floor Matting, a Folding Step and a Portable Toilet!

POP TOP CARAVAN
Hard walls at waist height
Canvas walls when raised
Hard roof that can be raised or lowered
Expanders involve single or double pop-out ends
Off-Roads have stronger framework
Awning usually a Roll Out
Less wind resistance when being towed
What you can purchase from Camp Smart...get your hands on a Pop-Top Privacy Screen End Wall, Levelling Ramps and Caravan Mover!
CAMPER TRAILER
Can be soft floor, hard floor or hybrid
Complete canvas wall
Looks like a trailer when packed down
Awning usually bagged or boxed
Lightweight and economical
What you can purchase from Camp Smart...don't go without the Camper Trailer Bed End Flys, External Shower and Digital Inverter Generator!