Jayco Camper Trailers - Which Awning Will Suit - Bagged & Boxed/Cassette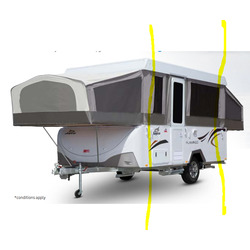 Jayco Camper Trailers are extremely versatile vehicles. They are easy to tow, and when set-up provides substantial room for the whole family. What many don't know is that they can have either a Bagged Awning or a Box Awning installed.
This depends on the model of your Jayco Camper Trailer.
Bagged Awnings are great - our kits include the poles, lead rail, brackets and screws, and guy ropes and pegs. Once it is installed, the Bag awning rolls up into the zippered pouch and stays attached to the Camper Trailer.
Box Awnings are also fantastic - we stock the Fiamma F45S Awning in sizes from 2.6m - 4m, in both black and white casings. The awning colour comes as a Royal Grey or Blue, and is kitted with the Standard Installation Bracket.
To see which Awning suits your Jayco Camper Trailer, have a look at the guide below. Remember, you need to measure the distance between the riser bars to get accurate sizing.
Jayco Camper Trailer Model Name

Body Size

Bagged awning

Fiamma F45 awning

Distance between riser bars

Flight,

Flite,

Swift

8ft Van

8ft

2.6m

2.26m

Dove

NEW Jayco Lark 2020

10ft Van

10ft

3m

2.9m

Eagle

Hawk

11ft Fan

11ft

3m

3.16m

Swan

Penguin

Flamingo

12ft Van

12ft

3.5m

3.4m

Finch

9ft van

n/a

2.6m

*** No longer in production we do not sell Jayco walls or awnings as they are no longer made – customer will need to buy from a canvas tripper