Lightweight Options for Staying Dry Under Your Caravan Awning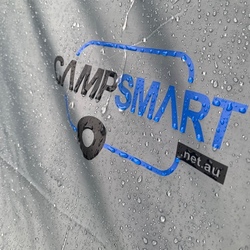 Canvas Caravan Annexe Walls have been a mainstay in the Caravan Industry for some time. Typically made of canvas and attached to a Roll Out Awning, the walls can effectively double the living space in a caravan, a huge bonus in wet weather.
Unfortunately the price, weight and bulk of these can be off-putting which in turn has seen an explosion in the popularity of lightweight shade cloth privacy screens. These offer protection from the sun with added privacy while also providing a little protection from light rain.
However, they're only shade cloth and not really much help in a decent spell of wet weather! So what options are there if you don't want to lug around 25kgs of Canvas? Thankfully there are a few including a new product to the market ticking all the boxes.
There are a few lightweight annexes in the market. These are typically made from lighter grade synthetic canvas or lightweight polyester / nylon, similar to material used on tent flys. The Thule EasyLink Tents are a great example of this. These are like a suspended tent under your awning which can be fitted to European Box awnings (such as the Fiamma F45s or the Thule Omnistor) or the more commonly used roll out awnings. These can be less than half the price of the tradition canvas annexe and also half the weight as 12-15kg. They're also quick and easy to set up. Click this link for more details: Thule
While lightweight annexes are a great option, at around $900 they're still a decent investment & quite a bit more than a set of shade cloth privacy screens. Thankfully Campsmart have recently released a new range of Waterproof privacy screens. These have all the great features of the popular shade cloth awning walls with the huge bonus of being waterproof, lightweight & priced at around $100 per screen.
Made out of Oxford Woven Polyester with a PU coating these awning walls are lightweight & extremely durable. The Oxford fabric weave provides better strength and durability than standard plain weaves and is often used for heavier duty fabrics. This allows for a thinner and light weight product, around half the volume and weight of regular privacy screens & up to 80% lighter than canvas awning walls. The lightweight and compact design means the Campsmart Waterproof Privacy Screens can be stowed away neatly when not in use in even the smallest of caravan boots.
To make camping in wet weather easy, find out more here: Waterproof Privacy Screens