Thule Easylink Caravan Annex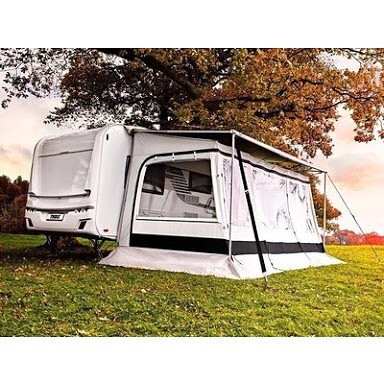 Finally Australian caravaners can experience the simple life that Europeans have known for years!
Thule's EasyLink annex is now available in Australia through Campsmart
Heavy poles and ropes, bulky annexes and hours spent erecting them are a thing of the past with the Thule Easylink Annexe. The smart design of the lightweight annex uses the caravan awning's existing structure to support the room. No need for heavy poles and ropes.
Best of all, the annex can be put up without fuss in just minutes. So, the next time the clouds roll in or the blaze of the sun becomes too much, the Thule EasyLink can be your saviour. The complete tent is in one piece and attaches easily to the caravan rail. The sloping front panel offers a large internal living space of 2.5m x 3.6m. A double ceiling is formed by suspending the tent below the awning, which creates better insulation and ventilation. The front has integrated doors on the left and right-hand side. The end wall windows are complete with mosquito mesh for optimal ventilation. All the windows are covered with external blinds with zippers.
When it's time to pack it away, the EasyLink fits easily into a small duffle, unlike traditional annex options which are heavy and bulky. The small, ultralight annex is easy to stow away in the caravan and ready to be pulled out again and easily erected when needed.
The Thule EasyLink has been enjoyed by European caravaners for sometime and thanks to Campsmart, Australians are now able to enjoy the experience. Thule have also adapted this version of the EasyLink for the harsh Australian climate and conditions, the Ripstop fabric is a light woven tear-resistant material, while the colour combination make the design timeless. All in all, it's the perfect choice for your next Aussie adventure.
Campsmart specialise in caravan accessories online have made it simple to order the Thule EasyLink online and have it shipped Australia wide. The Thule EasyLink is covered by the Thule guarantee of quality and a 12-month manufacturer's warranty.
Looking for other annexes, awnings or privacy screens?
Check out our
For more information:
Call 1300 553 189
Follow us on Facebook at www.facebook.com/campsmartaustralia
Related Products