Which replacement CAMEC door handle do I need?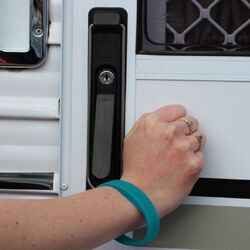 The CAMEC 3 Point Main Door Handle is one of the most popular and ever-present on our motorhomes, caravans and expanders.
At some stage should you find that you need to replace yours, it's important to remember a couple of things....
1) The handles do not come with the CAMEC door lock barrel and keys, based on most travellers wanting to retain the originals, and obviously not spend additional money on something they already have.
2) It's also hugely important to remember that when viewed from the outside.....
If the hinge is on the left side of the door, the door is left hinged

If the hinge is on the right side of the door, the door is right hinged
We have whipped up a very quick video in order to see the handle in action below.
Click here for instructions for the CAMEC door handle installation.
VIDEO