The easy way to install a Sirocco Fan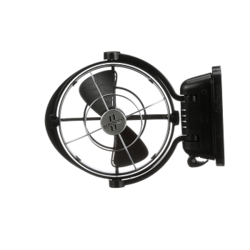 The Sirocco fan is by far the most popular Caravan Fan on the market.
With off-grid, outback caravanners in mind, the Sirocco II draws just 0.35A on its highest setting using 12V, meaning you can run the Sirocco II fan 24/7 through the balmy summer months with no worries.
Space is precious when caravan camping which is why the Sirocco II is designed to fold flat against the wall when not in use. Because of its gimbal design, airflow can be pointed in any direction regardless of how the fan is mounted. Quiet as a mouse, but powerful enough to keep you cool, this fan is key to beating the heat and getting a good night's sleep.
Made with durable, marine-grade plastic, and boasting 5,000 hours of operation, the Sirocco II fan is direct wire, 12V/24V (auto sensing), while maintaining RCM and C-Tick compliance.
SEEKR by Caframo offers a 2-year warranty on all Sirocco II fans.
The other great news is it is relatively quick and easy to install in your caravan.
Click here to read the Instruction Manual
Watch this Video to be walked through the easy Installation Steps