Safe Caravan Power Supply & RCD units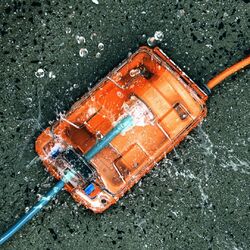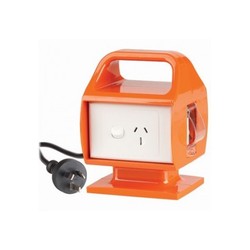 Have you ever wondered how to attach your caravan or camper trailer to mains power safely?
It is a very important issue for caravan, camper trailer and RV owners. Connecting incorrectly is both illegal, dangerous and can void your insurance.
If you have spent much time traveling around in your van you will undoubtedly have already heard a range of opinions for connecting to domestic power supplies.
To connect safely to mains power you should use a 15A to 10A converter.
Why?
Your home is run on a 10A supply. Your caravan, camper trailer and RV are run on 15A.
The difference means that plugging in your caravan and running appliances in the van such as lights, televisions, fridges, toasters, air conditioners and microwaves etc from on your domestic power point can exceed the 10A supply and overload the circuit and cause serious dangers such as fires.
Benefits
There are many benefits to having a converter. You can safely connect to your home power supply to charge up your fridge before heading off on a trip, safely connect when visiting friends homes and connect at other places that don't supply 15A power, such as show grounds.
If you are planning to connect your caravan to a residential power supply you need to use a 15 Amp to 10 Amp converter that has been approved to Australian Standards.
Which one?
There are a number of 10 Amp to 15 Amp Converters on the market in Australia and choosing the right one depends on the features you require. Features to look out for include:
Is it certified to Australian Standards?
Does it include RCD protection (more on this later)
Is it waterproof?
Does it have a valid warranty?
Depending on how you plan to use your unit not all of these features may be important to you. You may not need a waterproof unit for example.
What is RCD?
Many 10 to 15A converters also include an RCD.
RCD stands for Residual Current Device and is also commonly called 'earth leakage' or 'safety switch'.
A circuit breaker is not an RCD. Many people mistakenly believe that having a circuit breaker in their house means they don't need an RCD. It is possible to draw up to 20A from home fuses/circuit breakers as they are generally connected to several outlets.
An RCD acts as a fast acting switch that will trip almost immediately if needed. These devices save lives.
Cost Vs Need
At the end of the day, these units are relatively inexpensive to purchase, they are readily accessible and can save lives, not to mention the circuitry in in your caravan.
It still suprises me every day that some people will spend a fortune on a new van and then refuse to buy a converter that could save their investment, home or the lives of people they care about. Playing with electricity is not a hobby.
Too often we have seen first hand the handy work of people rigging up their own leads by replacing one end with a 15A head. These are known in the industry as death leads..for a reason. It is illegal to do, will void your insurance and has the potential to cause death.
Related Products
---
Leave a comment