How to add a campsmart discount code to your cart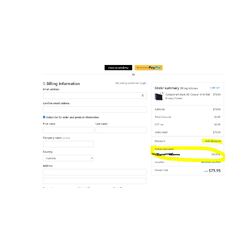 Repeat customers get the benefit of Campsmart Discount codes to use on future purchases.
Using your Campsmart Discount Code is very easy.
Step 1. Add the items you would like to buy to your cart and press the green "checkout" button
Step 2. Enter your shipping and contact details
Step 3. Add your discount code into the section that says "Add Discount"
Step 4. Confirm your details and pay. Your order is complete
Below we have a video and an image to assist but if you get stuck remember you can contact us by filling out the contact form.
One of our friendly customer service team will be happy to assist.
Have a look at our Sales Page for other great deals.
The legal stuff:
* Discount codes exclude Annexe, Bedfly & Awning range and are Single Use only. Discount Codes do expire. Discount codes can not be traded for cash or credits. Some sale items may not be discounted. We reserve the right to decide what we discount. Discounts may be subject to change.
Video of how to use a discount code:
Photo of the discount code on the checkout page: