Do I need a set of caravan leveling ramps?
Author: Donna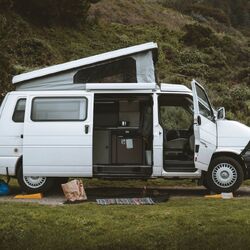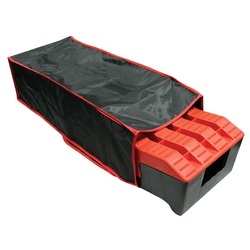 A customer asked me this yesterday - they were new to caravanning and getting the gear for their first van.
"If I am staying in caravan parks, do I really need a set of ramps?"
Without hesitation I said "Yes!" and this is why.
You may not always stay on perfectly level ground.
If you plan to travel around, you may not always stay on a perfectly level site. Sure, the concrete pads in caravan parks may be flat, but often sites are on slopes or dips. You do not want to be restricted to where you can stay. Our favourite campsite in summer is at a caravan park. But it's on a slope and we need to use a ramp to get our van level.
Your bed is not that comfy on a slope or angle.
A level van makes for a level bed. There is nothing like the blood rushing to your head or constantly rolling out of your bed to ruin a nice trip away.
Plumbing works better.
Gravity. Friend or foe. If your van is not level your sink won't drain well. Your shower won't drain well, your sullage won't drain well. It's the little things in life that can make a big deal. No one likes a bathroom swamp.
Your fridge will work better.
Your gas fridge likes a nice flat surface. So yes, you should get a set of ramps. You may not need them everytime you go away but when you do, you will certainly appreciate them.
But which ramps do you need?
If you have a dual axel van you will need tandem levelling ramps. Standard dual axle ramps are smaller than single axle ramps. This is because they need to fit between the two wheels on a tandem axle vehicle.
An alternative to the standard dual axle ramp is the Haigh Explore Two Stage Levelling Ramp. The beauty of this is the unique design that means you can pull apart the segments.
If you have a single axle camper trailer or caravan you can use either the Haigh Explore Two Stage Levelling Ramps or a standard three stage single axle ramp.
Always remember to use a chock
When you are satisfied with your positioning on the ramp make sure you insert your chock. Always get the matching brands ramp and chock as different brands do not always go together. Buying a ramp and chock set is an affordable option and most come in kits with a carry bag.
Do I really need two ramps?
You can buy ramps separately. Camec make a single ramp kit that is good value. But it can be a good idea to have a set of two. Sometimes you may find yourself on an uphill slope and then this can be handy.
Be sure to look through our selection of Caravan Leveling Ramps and all of our Caravan Parts and Accessories.
---
Leave a comment