It's a breeze with a Kitchen Awning Screen
Date Posted:26 July 2016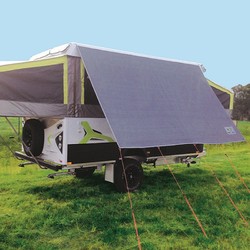 It's a breeze
Life in a caravan park can be fun and busy, but there are times when we'd just like a little privacy. This often means having to lock ourselves away and locking fresh air away with it. This is when you need the Coast Off-Side Sunscreen — you can block out your neighbours, as well as the sun's harsh rays, while still letting that fresh breeze blow through.
Made from high quality shade cloth, this awning screen to simple to set up, if you have a sail track fitted to your camper trailer, all you have to do is slide it on and secure with the guy ropes and pegs provided. The screen provides privacy from those around you while still allowing fresh air and sunlight into your trailer.
The screen also provides your kitchen protection from the heat of the sun's rays, which means it has the added benefit of allowing your refrigerator to run more efficiently. All-in-all the easy to assemble Coast Off-Side Sunscreen will make your next stay a more comfortable and enjoyable experience.
It's easy to purchase the Coast Off-Side Sunscreen to stay cool this summer, click on one of the options below or look through our entire line of kitchen awning screens.
The screen comes with a 3-year manufacture's warranty and is suitable for use with most popular brands of camper vans. If your van is older and doesn't happen have a sail track, this is a relatively simple addition and can be installed by the average handyman. The high quality D-ring also means you're able to use poles if you'd like to set up an additional shaded area, the poles do not come with the screen but can also be purchased.
Look through all our caravan privacy screens.
Related Products
---
Leave a comment