Our top 10 things you need for your next caravanning adventure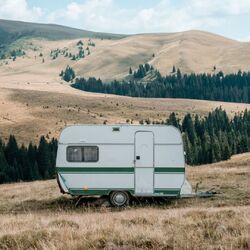 Our top 10 things you need for your next caravanning adventure
Just you, your loved ones and the open road. It's a caravaner's dream, although it can quickly turn into a nightmare if you don't have the right equipment. To make the most out of you next caravanning adventure we have put together a list of our favourite products that will ensure you enjoy every moment of your next journey.
A nice chilled Chardy is an ultimate reward after a long day playing in the sun. Although when you're camping or sitting by the pool, it's just not practical or safe to have your best glassware out. In the past, we've been forced to use plastic glasses that just feel a little cheap and end up breaking anyway.
Now we have Polysafe Unbreakable Wine Glasses and when they say unbreakable, they really are unbreakable. Made from tough and durable polycarbonate, these glasses can quite literally stand the toughest things you can throw at them. Whether it's a car backing into the campsite and a forgotten glass left lying around or knocking your wine onto the concreted side of the pool.
Best of all these glasses look stylish, feel elegant and have a rounded drinking lip, so no more cheap plastic cut-your-mouth rims. Polysafe Unbreakable Wine Glasses are dishwasher safe and they have a subtle little line measuring 150ml on the side of the glass, so you know exactly how much to pour for your cocktail hour.
Imagine camping out and not having to sweep up dirt, sand and debris from your ground mat each day? Innovative Australian company, CGear, have the answer with their brilliant product called the Multimat. Using specially developed multi-weave layers, the Multimat allows dirt and sand to fall easily through the mat and then traps it underneath leaving a clean debris-free surface.
The Multimat was originally developed as a deployable helimat to stop dirt and debris from being kicked up by the helicopter's rotors. It was so good at doing the job, that the same technology is now being used to keep your campsites dirt and debris-free.
Built tough to withstand a helicopter landing on it, the CGear Multimat is durable and won't tear or fray. The lightweight mat is easy to set up and packs away in its own drawstring bag. The Multimat is non-absorbent so won't go mouldy or rot, liquid spills will go right through the mat too. The Multimat allows grass and shrubs underneath, so will protect the environment unlike your average tarpaulin.
As an added bonus, the Multimat can be used as a shade cloth, it has a 90% shade rating, or as a wind break. Making it an incredibly versatile and hard-working product in your kit.
When you're in a caravan or on a boat, space is always at a premium, especially in the kitchen. All those bulky, awkward pots and pans take up a lot of space and rattle around while you're on the move. Not to mention, they never all seem to fit neatly onto a smaller stove top. SmartSpace Stacking Cookware is the answer to this eternal problem.
The innovative design of SmartSpace Stacking Cookware means you can easily and effortlessly cook on all elements of the stove top at the same time and then pack them neatly away in their 'nest'. Saving room and keeping your cupboards neat and tidy.
The three pots are square in design, so the fit better on the stove than the traditional round pot, and then they all nest in one another to pack away neatly. The set comes with an easy and safe detachable handle which attaches to each of the pots and makes for simple storage. The pots come with their own silicon mat that helps them nest together securely, but can also double as a heat-safe mat for your bench tops. Best of all, the sturdy steel lids comes with a refrigeration seal so than can be popped into the fridge to store leftovers.
Long summer days spent at the beach are the best kind to make wonderful memories. Not so wonderful is the gritty feel of sand on your sun-kissed skin or as a filling in your lunch! Australian company CGear have developed the Quicksand Beach Mat, which really does let you lay on the beach without the getting covered in sand.
The Quicksand Mat uses multi-weave layers that allows the sand to fall through the mat and then traps it underneath, leaving you with a sand-free surface. The multi-weave technology is the same as used in CGear's well-regarded Multi-mat (mentioned above), but the top layer is softer making it perfect for lazing around at the beach without sand getting in your way.
The Quicksand Mat is easy to wipe clean and spills just go right through mat. It's non-absorbent which means that mould won't grow on it and it won't rot. All this along with the UV stabilisers that prevent degrading from the sun, means your Quicksand Mat will last for many summer holidays.
Having the best and safest electrical set-up for your caravan, RV and camper van is paramount. Keeping your family protected when you're out on the road should always be your first priority, but it's also important to know that insurance companies won't cover any damage that is caused by illegal power setups.
One way to keep yourself and your van safe is with a POD (protection on demand) RCD adaptor. An Australian-designed POD 15amp to 10amp adaptor allows you to safely convert your 15 amp van power lead to fit a 10 amp household outlet. It has an inbuilt circuit breaker and meets the important Australian Design and Australian Standard Approved. This means you can safely charge up your van or cool down your refrigerator before taking off on your next big adventure.
When you're in a caravan or camper van, space is always at a premium. This is when a compact set of folding steps can be a great addition to your kit.
Campsmart have a range of folding steps that pack away and stow easily, but can be pulled out to make getting in and out of your van simple, safe and stress-free.
Life in a caravan park can be fun and busy, but there are times when we'd just like a little privacy. This often means having to lock ourselves away and locking fresh air away with it. With a Coast Off-Side Sunscreen — you can block out your neighbours, as well as the sun's harsh rays, while still letting that fresh breeze blow through.
Made from high quality shade cloth, this awning screen to simple to set up and the screen provides privacy from those around you while still allowing fresh air and sunlight into your trailer. The screen also provides your kitchen protection from the heat of the sun's rays, which means it has the added benefit of allowing your refrigerator to run more efficiently.
Sick of trying to find space on the caravan park clothes lines or find yourself out in the bush with a load to dry? A removable expanding clothes is the answer. Easy to install and then easy to pack away, the clothesline fixes to your caravan, RV or camper van, making clothes drying or airing a breeze. The line is 73cm wide and extends out instantly creating the perfect place to dry, before retracting for easy storage.
When you're out on the road, food stops can be limited and, let's face it, what you get isn't always gourmet cuisine. So what do you do if you can't face another soggy sandwich from the esky or cold bucket of chips from the servo? Enter the 12V Portable Stove.
Easy to set up and use, the 12V Portable Stove is perfect for cooking, storing or warming food on the go. The stove gets up to 149°C and can warm up that pie or last night's dinner in just three minutes. The stove simply plugs into 12V cigarette lighter socket in your car, caravan or boat. The insulated design will keep food piping hot while the outside stays cool. With it's deep-lid design, the stove is made from durable ABS plastic and has handy carrying handles.
Save space and prevent spills with a hose a lay flat hose. The Flat Out hoses come in a range of sizes and for purposes including drinking water and sullage waste. The best part is the retract back into their reel and self drain as they do so, meaning no more nasty spills while stowing away your hose and saving space.
So with all these fabulous product on board your caravan, camper van or RV, you're now set for a relaxing and drama-free holiday. You can purchase all these fantastic products, and lots more.
Related Products
---
Leave a comment