Caravan & RV Water Pumps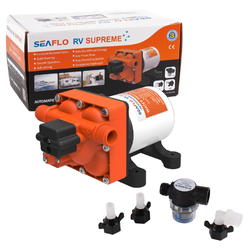 RV Water Pumps – What Do I need?
Most Caravans, Motorhomes, Camper Trailers and Campervans have freshwater tanks connected to at least one tap with many hosting multiple applications including showers, hot water system tanks, and flushing toilet connections. Getting the water to these requires a pump but knowing what type of pump suits best is not always straight forward. Here's a quick guide to help match set-ups with the right pumps, explain some of the terminology used and outline the features to look for when purchasing a pump.
Manual Pumps
Manual hand pumps are an inexpensive and commonly used way of getting water to a small sink or tap, internally or externally to the RV. They don't require any power but filling up a decent-sized sink can be quite a work-out. Good for small applications and commonly used in smaller Camper Trailers.
12V Water Pumps – Key Features & Terminology
For connection to medium to large RV water tanks and any tanks with more than one application, 12-volt water pumps are a must. These will pump water utilising a 12v power source but vary considerably when it comes to output capacity and features. Here are a list of features to look for:
Open Flow Rate: This is the capacity of the pump in the volume of water it can deliver. Normally measured in Gallons Per Minute (GPM) or Litres Per Minute (LMP). Rates of around 1 GPM are sufficient for smaller applications such as a tap & sink on a Camper Trailer. 3 GPM is suitable for multiple applications, including running a shower.
Self Priming: This is the ability of a pump to detect a pressure drop and automatically turn on when required. It will also automatically turn off when the pressure builds back up after an application stops. This is done through a pressure switch.
Pressure Setting: This is the internal water pressure setting where the pump will turn off at. Typically the pressure setting will be higher on pumps with greater flow rates. Pumps with a 3 GPM flow rate will normally have a pressure setting or around 45-55 PSI (or 3.8 Bar). The higher the pressure the greater the flow when applications are turned on.
Encapsulated Pressure Switch: The pressure switch is vital to the operation of a pump and some pumps now feature an "Encapsulated" switch. This will help protect the pump and improve its lifespan.
Run Dry Safe: Damage can be caused to some pumps if left on after the tanks runs dry. This can often occur in the RV environment so be sure to get a pump which is Run Dry Safe.
Industry Standard Mounting Pattern: This is the size of the mounting frame. If replacing one of the popular RV 12v pumps including the Shurflo 4009 or the SeaFlo RV Supreme, getting a pump with an industry standard mounting pattern will mean you don't need to drill any more holes in your precious RV and helps with a quick and easy installation.
Strainer / Filter: Most of the larger water pumps either come with a filter or require one to ensure the warranty conditions are covered. These are usually a twist on filter fitted to the inlet side of the pump. We highly recommend using these as the most common issue causing pump failure is debris getting into the diaphragm.
Fittings: Fittings are generally required to connect to filters or hoses which are normally 3/8" or ½" in size. Look out for the pumps which include these, making installation quick and easy without the need to shop around further.
Santoprene Diaphragm: Santoprene is a thermoplastic rubber with excellent chemical resistance, flexibility & durability. A Santoprene Diaphragm will improve the pumps performance and lifespan.
Quiet Running: Noisy pumps can be quite annoying, particularly in the outdoor camping environment. Look for a quiet running pump and enjoy the sounds of nature!
What Do We Recommend?
We stock a few brands of pumps, but it's hard to go past the new RV Supreme from SeaFlo. This pump covers all the features listed; it comes with a 3 Year Warranty and is Australia's Quietest RV Pump. It's no surprise this is quickly becoming the pump of choice for some of Australia's largest RV manufactures. At 3 GPM, this pump is ideal for RV's with multiple outlets, including a shower.
Related Products