Coast Awning Wall Kit Review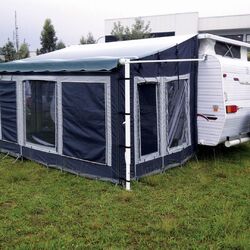 Look at this great feeback we got for the Coast Kit from one of our customers Mark.
I have had this annex wall kit for a while now and I have been more than happy with it. Firstly, aesthetically it looks so much more nicer than many of the striped 'circus tent' style annexes that you see around caravan parks. So often many of these type of annexes look dark inside and out. Conversely the Coast annex has lots of windows to allow in plenty of light and if its raining the see through window flaps still allow lots of light in but keep the rain out. There are also lots of zips so door locations can be changed easily. The fabric seems strong but not too bulky to pack up or heavy. Perhaps the one area I would ask Coast to improve are their instructions - clear as mud on the first reading but with patience you gradually work it out.
Great feedback thanks Mark!
Related Products
---
Leave a comment