Create more space with a Jayco camper trailer annex room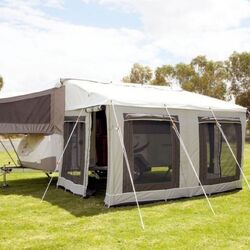 Are you tired of tripping over the kids in the Camper Trailer?
Limited space can be taxing on long camping trips, particularly when the weather descends.
Camping trips with the family make memories for a lifetime, but there is nothing worse than being cramped inside when the weather changes.
Fortunately there is a solution.
Be prepared for all conditions on your next trip away. A Jayco camper trailer annex provides instant extra living space and weather protection.
Use your new living space annex as a lounge area, kitchen or bedroom for the kids.
Unique Features
The Jayco Bag Awning and Walls Kit come with many unique features making them extremely popular. A great feature are the large floor to ceiling windows that create a light and airy interior.
Each window has three layers, fly mesh, pvc rain guards and canvas shutters.
The rain guards and canvas shutters both zip down or roll up neatly out of the way to let the breeze in. The clear PVC rain guards are a popular addition on rainy days as you can still get plenty of light and see the view no matter what the weather has instore.
Another unique feature are the two entry options. Both end walls include an entry door and window, so you can customize the layout of your annex to suit your family and your needs.
Made from high quality polyweave canvas the Jayco Annex rooms are lightweight, strong, quick drying and durable.
The modern polyweave canvas used in the Jayco camper walls provides many benefits over traditional cotton canvas which can be heavy, slow to dry, soils easily and is prone to mold.
Another popular feature is that each kit includes the brand new Jayco range of grip lock lightweight aluminum poles. Lightweight and strong the grip lock feature holds the poles tightly in position, unlike twist lock poles that come loose over time.
Fits both old and new Jaycos
You don't need a new van to benefit from the annex range. The bag awning and walls kits can be retrofitted to older Jayco Camper Trailers. Simply remove your old bag awning and replace with your new Jayco one.
Installation is quick and easy, simply add the included brackets and slide into your existing sail track on the van or get your local caravan repairer to do this for you. Sail track is readily available at boating shops, caravan repairers, trimmers and some hardware stores (check your local bunnings).
Don't spend another holiday playing Uno on your bed in the rain with the kids. Buy a new Jayco Package today and let the holiday begin.
Click here to view the complete range today.
Related Products
---
Leave a comment