Choosing Between Anti Flap Kits for Your Fiamma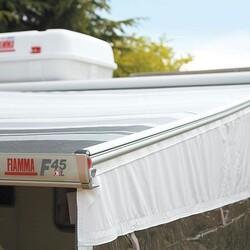 Benefits of a Fiamma Awning
The Fiamma F45S is an extremely popular and versatile box-style awning. Made by Fiamma in Italy, it is compact and easy to set up and use.
The quick & easy set-up makes it popular for use on a range of RVs including motorhomes, caravans, wind-up style camper trailers and transit vans. A single person can set up the Fiamma F45 awning in under a minute. This makes it easy for solo campers and families with young children as only one person needs to be involved in the set-up & pack-up.
The unique compact design involves the use of folding extension arms that concertina out from the side of the van to support the awning. While this is great for easy use and quick set up, there are a few disadvantages. It can be less stable in winds and without side support arms there is no way to hang privacy screens on the sides. These are the main reasons people purchase an Anti Flap Kit for their Fiamma F45s Awning.
Look through our range of Anti-Flap Kits here.
What is an Anti Flap Kit (AFK)?
An Anti Flap Kit (AFK) does exactly what the same suggests.
It provides the awning stability and helps prevent the vinyl from flapping in the wind. Typically all AFKs will use similar systems to create awning stability. They have metal bars that clamp down and brace the material on the side of the awning.
Why would you use an Anti Flap Kit?
Most people would use one to create awning support.
The bars bracing the side of the awning make it stronger, stop the annoying flapping noise that can come from vinyl flapping in the wind at night and allow caravan privacy screens to be used. The ability to attach privacy screens is perhaps one of the deciding factors in purchasing an anti-flap kit for most people.
Why would I want to use a Privacy Screen?
Privacy screens are one of the most popular accessories for caravan and RV travellers. By attaching a privacy screen to your awning you can block out the sun/weather/nosy neighbours and extend your living area.
Pegging down a caravan privacy screen from an anti flap kit can also further brace and protect your awning.
End & side caravan awning walls are privacy screens that are extremely useful for weather protection. They can protect the entrance to your van from rain/wind and sun and give you a sheltered peaceful spot to relax.
Caravan end wall privacy screens have Kedar rope sewn into the top of them to make them easy to slide into the sail track on the anti flap kit. Much quicker than setting up an annexe room a caravan privacy screen can be put up in a matter of minutes.
What options are there?
There is a range of different anti-flap kit options.
At Campsmart, we stock 3 main brands to fit the Fiamma F45S.
2. Campsmart Premium AFK with Fiamma F45S Adapter Pack
They each have different benefits that are summarised in the table below: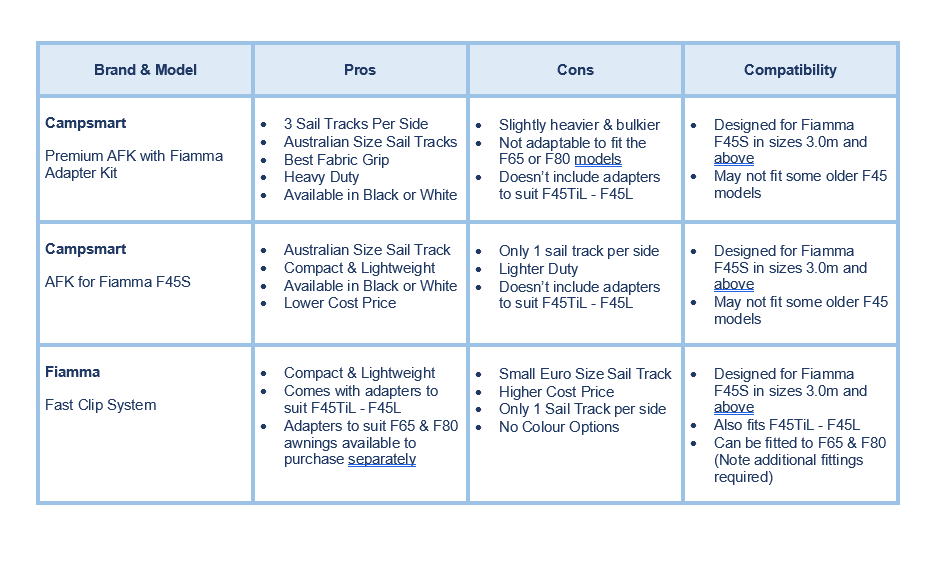 Key Considerations before purchasing your AFK
These anti-flap kits are designed to fit the Fiamma F45S range of awnings. We are aware that there are many new international brands of box awnings coming into Australia at the moment but our AFK range has not been tested on the aftermarket brands and we can not guarantee they can be fitted to these.
All campsmart AFKs are designed to fit awnings that are 3.0m or longer. If you have a small Fiamma awning such as a 2.6m model, these AFKs will not fit your awning.
The Fiamma F45S has been around for many years. It is possible if you have an old awning that the AFK may not fit. Older awnings can have variations that have not been assessed and may have had parts or vinyl replacements.
Video of a Campsmart Anti Flap Kit being used: